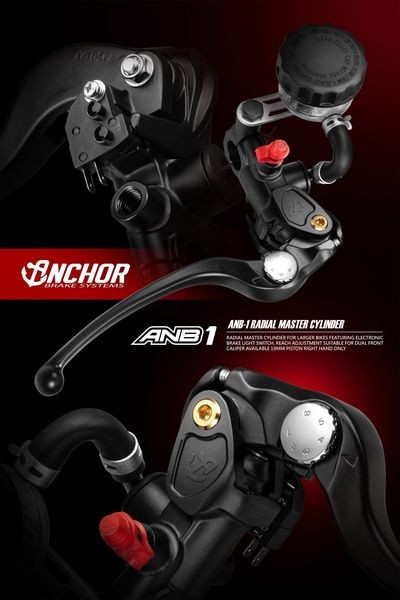 ANB-1 Replacement for Stock CBR650F
Thank You to Anchor Thailand for sending us this new puppy! ANB1 19mm Radial Master Cylinder !! Great feeling and such an improvement compare to the stock one!!
We tested the ANB-1 19mm Radial Master Cylinder and we love it! Such a huge improvement (compare to the stock 13mm) in terms of efforts. The lever is now strong and the feeling when you squeeze that lever is no more funky or spongy. The response is direct and the bike seems to be much more aggressive on the braking points.
The ANB-1 is perfect for a stock replacement on a street bike but if you have a superbike it will be better to jump directly to the Racing side of the brand. The Racing model is the ANB-7, lighter and equipped with 2 positioning set up knob. A CNC folding lever is also part of the racing version.
????ปั๊มบน เเบรนด์ Anchor ANB-1
✅มีไซส์ 19mm
✅สี Hard Anodized Black
✅สี Hard Anodized
✅สี Light Hard Anodized
✅มีรองรับทั้งด้านซ้ายเเละด้านขวา
✅ มีอะไหล่รองรับ กรณีต้องการเปลี่ยนอะไหล่
✅ สินค้ารับประกัน 1 ปี ตามเงื่อนไขใบรับประกัน
✅สินค้า ปั้มบน วัสดุนําเข้าจากต่างประเทศ ขึ้นรูปด้วยการ Forged อะไหล่ต่างๆทําจาก Stainless 304 Coating เพื่อป้องกันสนิม แสงแดด และทําให้สีมีความคงทนใช้ได้นาน
????สนใจสั่งซื้อสินค้า สอบถามรายละเอียดสินค้าเพิ่มเติม/หรือสมัครเป็นตัวแทนจำหน่าย inbox หรือ @LINE : @thspm ได้เลยจ้า????????
ติดต่อสอบถาม โทร. 097-247-2137, 080-045-7590, 099-096-8282
ANB-7 Replacement for Track CBR650F
After the great surprise from the ANB-1 we decided to get the NEW ANB-7 installed on the CBR as she's becoming a TrackOnly bike. Once again the guys from ANCHOR THAILAND deliver in no time and this new racing version will be installed very soon so we can do a proper review. But what i can tell you already is this one will be replacing the ANB-1 then we will make a GIVEAWAY with the ANB-1!!
Stay Tuned!!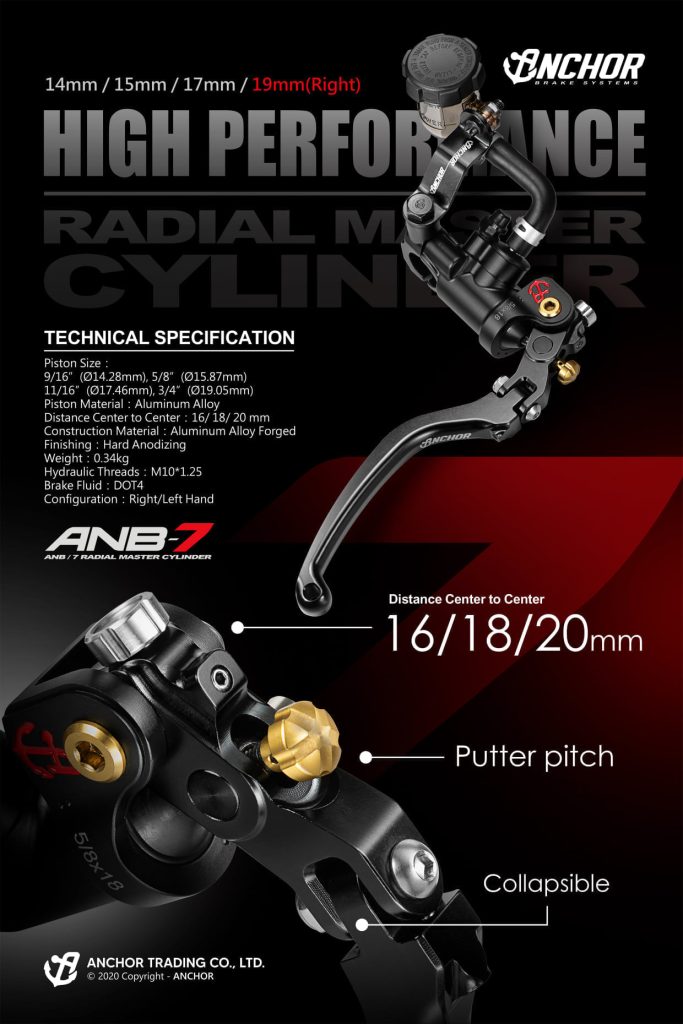 Website: https://anchor-brake.com.tw/
Facebook: https://www.facebook.com/Anchor-Thail…
????ปั๊มบน เเบรนด์ Anchor ANB-7
✅มีไซส์ 19mm
✅สี Hard Anodized Black
✅สี Hard Anodized
✅สี Light Hard Anodized
✅มีรองรับทั้งด้านซ้ายเเละด้านขวา
✅ มีอะไหล่รองรับ กรณีต้องการเปลี่ยนอะไหล่
✅ สินค้ารับประกัน 1 ปี ตามเงื่อนไขใบรับประกัน
✅สินค้า ปั้มบน วัสดุนําเข้าจากต่างประเทศ ขึ้นรูปด้วยการ Forged อะไหล่ต่างๆทําจาก Stainless 304 Coating เพื่อป้องกันสนิม แสงแดด และทําให้สีมีความคงทนใช้ได้นาน
????สนใจสั่งซื้อสินค้า สอบถามรายละเอียดสินค้าเพิ่มเติม/หรือสมัครเป็นตัวแทนจำหน่าย inbox หรือ @LINE : @thspm ได้เลยจ้า????????
ติดต่อสอบถาม โทร. 097-247-2137, 080-045-7590, 099-096-8282
Anchor##ปั้มบน##ของเเต่งมอเตอร์ไซค์##อะไหล่เเต่งมอเตอร์ไซค์